Big Bad Bubba's home page
---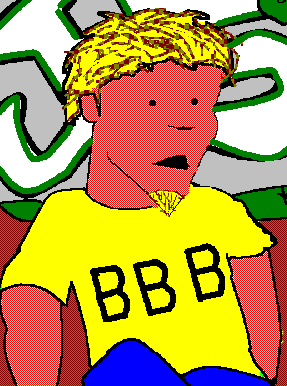 This picture is the handy work of my little bro, the master artist and chef.

Basic info about myself and my home page

This page is a general links page to my many other pages and some of my favorite web sites. My home pages basically demonstrate the extent of my creative abilities and the lack of sanity I posses. Please take a couple of minutes to sign my guestbook so I'll know you stopped by. Sign My Guestbook
View My Guestbook

As of December 29, 2001 I am now a married man. I made a web page dedicated to my wife as a christmas present in December of 2000. If you want to check it out then click here Virtual Scrapbook. I have several close friends that I spend time with three of wich are my accountability partners. My main ministry right now is teaching the Young Adult sunday school class at church with Amy.
In February of 2001 God revealed to me that He wants me to become a pastor. Since that time he has confirmed this calling in many ways and I am now working toward this eventual goal. If you want to know anything else about my personal life then feel free to e-mail me.


Be sure and check out these cool links:


Cool pages of mine:
* The Coolest Words on Earth. Now up to 80 words!!! Last updated 10/24/00.

* Cool Pictures: this page has a couple of old pictures of myself.

* Y2k Pictures: Fun random pictures of Bubba and his wife that were taken during their first hang out. :Additonal pictures added 09/18/00.


* Rambling: This page is full of Random cool sayings, in no particular order.
Check out "Fun Things to Do When Stuck on a Roller Coaster" added 07/20/00.


Cool Christian links of mine:
* Cool Bible Verses: this page is full of encouraging Bible verses to get you through the day, challenging Bible verses to apply to your life, and funny Bible verse to lift your spirits. All verses on this page were added before 4/1/97

* Cool Bible Verses Part 2: this page is a continuation of Cool Bible Verses. It is structured a little differently then the original page. On this one I tried to link things by subjects. All Verses added after 4/1/97 are on this page.

* Fruit of the Spirit: this is a separate page devoted to the Fruit of the Spirit. Each facet of fruit is arranged so it can be your devotions for the day.

Other Cool Christian Links:
* Online Bible: I love this site. It's got many different translations and all kinds of reference tools including a word search feature and cross referencing.

* Encyclopedia of Christian Links: This page has Bible commentaries, Bible studies and much more. Every Christian who wants some online Bible resources should check out this page.

* Bible Reference Guide: This page has Bible references for just about any situation. It's a great resource to have when someone asks you for proof of what you believe.

* Maryland Chrysalis Fourth Page: Chrysalis is the Ministry that I work with. It's a discipleship ministry that seeks to train high school and college age kids to become leaders in their respective churches.

* Verse of the Day. This page is maintained by my wife, Amy Noel. It has a different verse each day, a brief devotional, and a couple of cool links.


* PRAISE1077's Home Page. This girl really has a heart for evangelism. Her page is a great reference source for leading someone to Christ. It's one of the better Christian home pages I have seen.

Other Cool links:

* ESPNET SportsZone. Your one stop resource for all sports news.